This is a curated list based on recommendations of experienced friends / professional references on how I should start building knowledge to become a great product manager.
My goal here is to immerse myself on the concepts of product management and soak up as much knowledge possible to implement this on my day-to-day routine.
Remember (how to learn something):
focus on what's interesting,
ignore (skip) what's boring
you don't have the obligation to read the whole book. read only what's appealing to you. if it's trash, throw it away.
take smart notes and write a guide summarizing your findings to make this knowledge more accessible to rookies in the future
Who to follow on Twitter:
Reading list:
Articles:
Books:
How to read:
First skim the books to see if they are useful or not.
While skimming, take note of the important parts (but don't fully read them. just note down important parts)
Come back and read the important parts carefully and summarize them
For Skimming:
In progress:
100% -  Shape Up
100%  - Product Led Organization
100%  -  The hard thing about the hard things
50% - Don't Make me Think
0% - Drive
0% - Team Topologies
0% - A Pattern Language
0% - High Output Management
0% When Kale and Coffee Compete
Backlog:
Product Led Growth (re read)
Crossing the Chasm
The Score Takes Care of Itself
Product Led Onboarding
Take notes and summarize: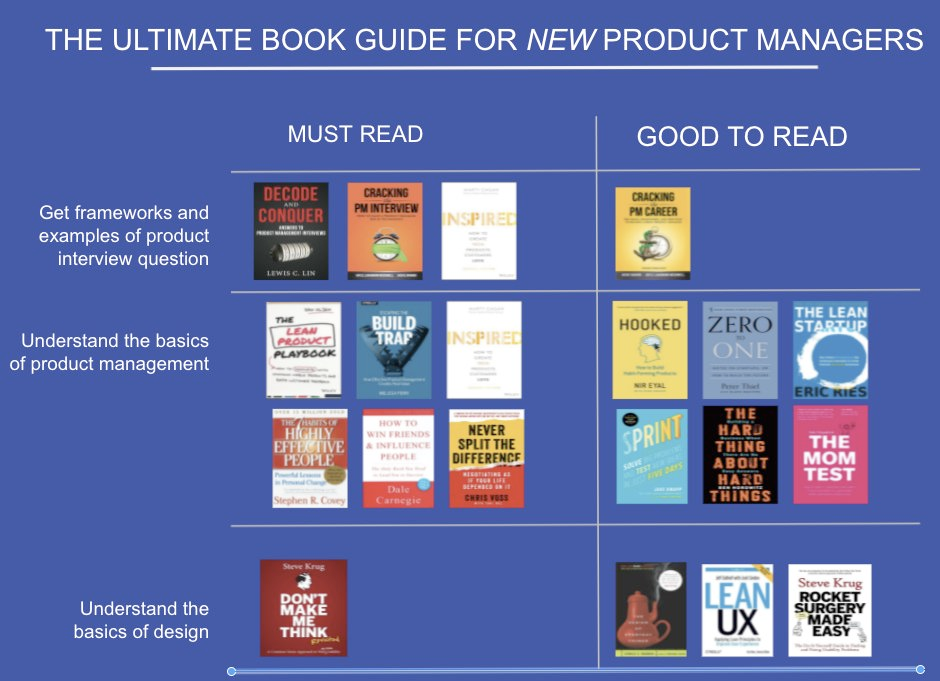 I've found the Inspired Product Management and Cracking the PM Interview Books to be uninteresting. I'm Ignoring them.